How do I delete filtered data points?
Data points can be deleted from the active DATA FILE. This only deletes data points from the processed data file. The original, unaltered file can be returned to at any point.
To delete any filtered data points, click on the DELETE button in the BLOCKADE SUMMARY table.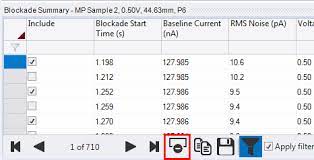 To revert to the original data file and restore deleted data points:
Right-click on the Sample ID (or Group Name, if all the data set needs to be reprocessed).